Frequently Asked Questions
How do I set up a Rowley Trade Account to purchase Finestra® Custom Hardware?
Click Create Account under the Sign In icon. From here, you can Request A Trade Account.
---
back to top
Is an account required to be able to purchase product?
Finestra® Custom Hardware is only available to interior design professionals and window covering specialists. To become a trade customer, you must have a federal tax ID # and complete a Trade Account Request Form.
---
back to top
I registered but forgot my username and/or password, what do I do?
Your user name is the email address we have on file for you.
If you have forgotten your password, click on Sign In and then click Forgot My Password. Fill out the form with the email address that you registered with and you will be sent an email with instructions on how to reset your password. Once you have successfully reset your password, for future use, check the Keep me signed in box before signing in to keep you logged in on your personal computers and mobile devices.
---
back to top
What forms of payment are accepted for online purchases?
American Express, MasterCard, Visa and Discover are accepted and approved customers can also opt to use their Net 30 Day Billing Terms. Online orders paid by credit card are processed and charged at the time the order is submitted online.
---
back to top
Are all my transactions secure and safe?
We are committed to making our website a safe and fun place to shop. Our credit card processor, Paya, provides and maintains the latest security SSL (Secure Socket Layer) technology for our site. Every transaction conducted is encrypted for privacy and we do not store credit card numbers.
---
back to top
Can I order by telephone?
Yes, you can place an order by calling our Customer Experience team at 1-800-343-4542 between the hours of 8am – 6pm ET (M-F).
---
back to top
Can I order a product brochure?
Yes, complete our short catalog request form to receive a free Finestra Custom Hardware and Finestra Wood Decorative Hardware brochure.
---
back to top
Are color chips or samples available?
Finish sample rings and other sample display materials are available to view and purchase under the sales aids tab in the footer.
---
back to top
Where is my merchandise shipped from?
Finestra Custom Hardware is fulfilled and shipped from our Dallas, TX location.
---
back to top
What is the lead time for custom items?
All custom hand painted items have a 10 business day lead time. Custom Traverse Systems have a 10 to 12 day lead time.
---
back to top
Are your products compliant with window safety standards?
When installed according to the instructions provided, Finestra Custom Hardware products are compliant to the ANSI 100.1 safety standards for window coverings.
---
back to top
What is your return policy?
All Finestra Custom items are hand painted per order; once an order is submitted, it cannot be canceled or returned.
---
back to top
Can I order oversized items online?
Yes, items over 92" and up to 104" will ship ground for a flat rate per box. Lengths over 104" will ship via truck carrier, excluding orders shipping to Hawaii or Puerto Rico. Oversized items will show in the cart with an oversized icon.

If any item from your order is over 104", the whole order will ship truck. For more details on shipping fees, view Flat Rate Shipping Program.
---
back to top
How do I use the My Projects and My Favorites features?
My Projects
My Projects allows you to create groups of products per client project. For each project, you'll be able to store products needed, room type, project notes, special instructions and important client information. You can print, create a PDF and/or share this project with your client with the option to show or hide pricing. Easily push any saved project to the cart to quickly place an order and clone projects for use with other clients. Click My Account in the top right corner of the site to access My Projects.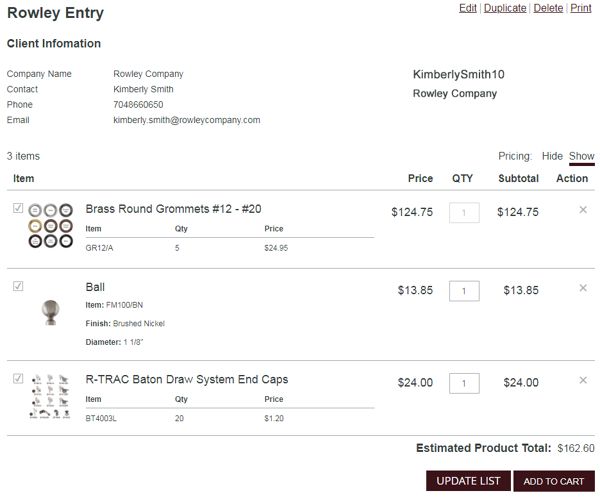 My Favorites
My Favorites allows you to save your favorite frequently ordered products into a quick reference list. From each list, you can add the items directly to your shopping cart per item or per list, as well as share the list via email. Click My Account in the top right corner of the site to access My Favorites.
---
back to top
Where can I view Rowley's Privacy Policy?
Rowley's Security & Privacy Policy can be viewed online in detail at rowleycompany.com/security-privacy-policy.
---
back to top
What should I do if I'm having issues viewing the website?
There are many factors that can affect the performance and load speed of a website including connection, browser compatibility, traffic volume and more. First, we recommend viewing our website in the Google Chrome™ browser for optimal performance. Also for best results, make sure you are always using the most up-to-date version of your browser. If you don't have it set to update automatically, make sure you check periodically to ensure you're running the most current software version.
Here are some helpful troubleshooting tips if a webpage is not fully loading or loads with an error:
Your browser may be cached. Try deleting all cookies and other browsing data, then revisiting the problematic webpage.
Check your browser to ensure JavaScript is enabled. If it is, check your security program's settings and make sure it is not blocking online JavaScript.
Test viewing from other browsers and devices, such as your mobile phone to see if you still experience the same issue.
Ensure you are using a high speed internet connection.
---
back to top
How do I search for products on the website?
On all our brand sites, you can easily find products with robust filtering and search functionality.
Once you've selected a category from the main header, use the Shop by box on the left side of the page to further filter down your product results by sub-category, style, type, color, etc.
Use the search box in the upper right corner to find products by description, name or item #. When searching by name or description, the search results will show all products using any of the terms in your search string. When you select a product from the results, you will be taken to the Product Detail Page with a chart listing similar items if applicable.
When searching by item #, the results will bring back just the item # you entered in the box. When you select the product, the product page will only show the item name and price to add to cart. If you want to see more detail on the product, please search using the product name or description.
---
back to top
What new features are available on the Product Detail Pages?
Product content is now conveniently organized into tabs including Overview, Education and Instructions.
Above the main product image on the page, you'll find links for emailing to a friend, adding to your favorites list, adding to a project and download as a PDF for easy printing.

You can now download product pages to print or save as PDFs with the Download PDF icon. For optimal performance, we recommend using this while in the Google Chrome™ browser.
At the bottom of the page, you'll also find related products and recently viewed products, to ensure you get everything you need for upcoming projects.
On our decorative hardware brand sites, you will see Complete Your Window at the bottom of the product page. This feature allows you to search other items you may need to complete your window solution including finials, brackets, rings, poles and accessories.

ADD TO FAVORITES LISTS


---
back to top
How does the shopping cart work?
Just as in a physical store, your shopping cart holds items until you are ready to check out. From the shopping cart you can:
Proceed to check out
Continue shopping
Remove items
You can always get back to your cart by clicking the "Shopping Cart" icon found at the top right corner of the page.
Shop across all three brand sites with one convenient sign in, including Rowley and our family of decorative drapery hardware brands: AriA® Metal Hardware, Finestra® Wood Hardware and Finestra® Custom Decorative Hardware. Add items to your shopping cart from any of the brand sites and checkout only once. Easily access these brands by clicking the logos in the top left corner of the site.
---
back to top
Where can I learn more about the new website?
To help you get more familiar with our new site, view the full list of features and benefits.
---
back to top